UVGI Systems are highly recommended by many organisations like the US Government and the Ir Institute of Respiratory Education as well as Malaysian Green Building Council, for killing microbes and improving Indoor Air Quality.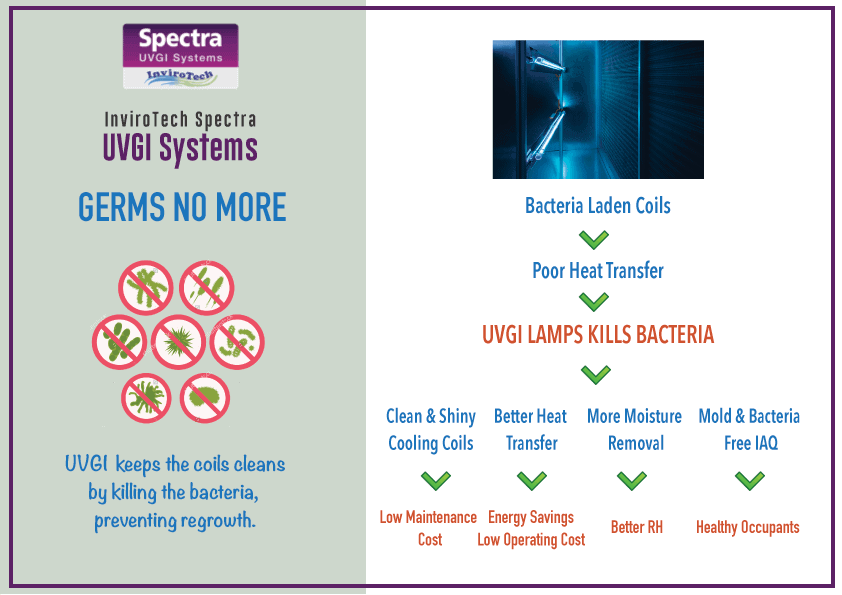 Absolutely safe & complete UVC System for HVAC applications.
Improves IAQ, controls bad odor by killing germs on coils and drain pans
Provides Energy Savings due to reduced fan horsepower.
Reduces AHU maintenance cost with continuous cleaning of coil & drain pan
Improves coil performance – cleaner coil means better heat transfer, lower off-coil dew point, more moisture removal and better room humidity.
Communicates with BMS for efficient monitoring (optional).
Energy Efficient –   very modest power requirements.
No maintenance during entire life span of lamps (9000 to 13000 hours)
Eco-friendly – reduces coil cleaning frequency
Increases productivity & helps reduce absenteeism due to illness.
Invite InviroTech team for a detailed presentation on Spectra UVGI Systems.